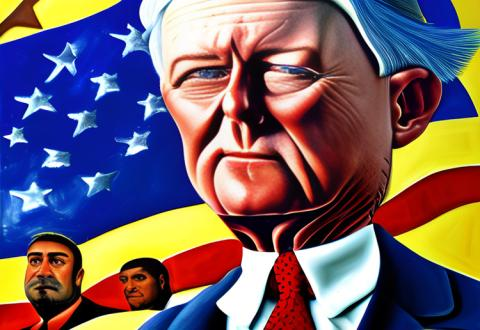 James Bovard – April 7, 2023
Manhattan district attorney Alvin Bragg has charged former president Donald Trump with thirty-four felonies tied to his payments to two women prior to the 2016 election. Some pundits are outraged that a former president is facing charges, and others are jubilant that Trump now has a mug shot. But this case will do nothing to curtail the most dangerous immunities that presidents possess.
Neither presidents nor any federal officials were entitled to break the law when this nation was founded. John Taylor, a US senator, wrote in 1820 that the Constitution "wisely rejected this indefinite word [sovereignty] as a traitor of civil rights, and endeavored to kill it dead." But the following year, Chief Justice John Marshall concocted the doctrine of sovereign immunity out of whole cloth: "The universally received opinion is, that no suit can be commenced or prosecuted against the United States; that the judiciary act does not authorize such suits." The Supreme Court declared in 1945 that sovereign immunity is "embodied in the Constitution," but the justices have never revealed exactly where they found it.
In 1977, former president Richard Nixon told interviewer David Frost, "When the president does it, that means that it is not illegal." Somewhat dumbfounded, Frost replied, "By definition?" Nixon answered, "Exactly. Exactly." Nixon's comments were considered scandalous at the time. But "It is not a crime if the president does it" is now conventional wisdom in Washington.
This doctrine provides a "get out of jail free" card for any president who itches to bomb foreign nations. In 1998, President Bill Clinton launched a missile strike against Sudan after US embassies in Kenya and Tanzania were bombed by terrorists. The US government never produced any evidence linking the targets in Sudan to the terrorist attacks. The owners of the El-Shifa Pharmaceutical Industries plant—the largest pharmaceutical factory in East Africa—sued for compensation after Clinton's attack demolished their facility. Eleven years later, a federal appeals court dismissed the case: "President Clinton, in his capacity as commander in chief, fired missiles at a target of his choosing to pursue a military objective he had determined was in the national interest. Under the Constitution, this decision is immune from judicial review." Determinations based on secret (often false) information legally absolved presidents of any killings or calamities abroad.
In 1999, former president Clinton attacked Serbia, killing up to fifteen hundred Serb civilians in a seventy-eight-day North Atlantic Treaty Organization (NATO) bombing campaign. Serbia had done nothing to the United States, but defense secretary William Cohen justified the bombing as "a fight for justice over genocide." After the bombing ended, no evidence of genocide was found. Many of the Serbs remaining in Kosovo were slaughtered and their churches burned to the ground. Clinton's attack brought on the takeover of Kosovo by a vicious terrorist clique that was condemned by the European Union in 2014 for murdering Serbs and selling their kidneys, livers, and other body parts.
Thirty-one congressmen sued Clinton for violating the War Powers Act by attacking Serbia. A federal judge dismissed the lawsuit after deciding that the congressmen did not have legal standing to sue.
Last year, former president George W. Bush gave a speech vehemently condemning the "decision of one man to launch a wholly unjustified and brutal invasion of Iraq." Bush had blundered in a speech condemning Russia's invasion of Ukraine. He realized his mistake, mentioned Vladimir Putin, then added, "But Iraq, too." The audience at the George W. Bush Presidential Center in Dallas laughed. The humor was lost on the families of four thousand American servicemen and hundreds of thousands of Iraqi civilians who perished in the conflict.
Bush dragged the nation into war against Iraq by conning Americans into falsely believing that Saddam Hussein was the culprit behind the 9/11 attacks. Bush also frightened people about Iraqi weapons of mass destruction. The ruse worked even though the WMDs were never found.
After the 9/11 attacks, Bush's lawyers assured him that the Constitution and federal law no longer constrained the president's power. Bush White House counsel Alberto Gonzales formally asserted a "commander-in-chief override power" entitling presidents to ignore the Bill of Rights.
Weaselly legal opinions propelled tyranny. An August 1, 2002, Justice Department memo narrowed the definition of torture (banned by federal law and the US Constitution) from suffering "equivalent in intensity" to "organ failure . . . or even death." Call it a license to almost kill. Bush proceeded to authorize the type of torture regime that civilized nations had formally abandoned hundreds of years earlier. The Central Intelligence Agency (CIA) constructed an interrogation regime by "consulting Egyptian and Saudi intelligence officials and copying Soviet interrogation methods," the New York Times reported. A secret legal opinion authorized CIA interrogators to engage in head slapping, waterboarding, frigid temperatures, and manacling in stress positions for many hours. CIA interrogators often did not speak the language of detainees, so they compensated by beating the hell out of them.
While he was president, Bush denied that he had authorized torture. However, in 2010, during a book tour to promote his memoir, Bush bragged about authorizing waterboarding, which had been categorized as torture by the US government for more than fifty years. Torture victims who survived filed lawsuits in federal court. However, judges dismissed all the cases due to sovereign immunity.
When Barack Obama was elected president in 2008, many Americans expected the government to show more respect for the Constitution. But Obama quickly proclaimed a presidential prerogative to assassinate Americans whom he labeled as terrorist suspects. Obama's lawyers insisted that the president need disclose zero evidence before executing officially designated bad guys. A Justice Department lawyer declared in court in 2010 that no federal judge had authority to be "looking over the shoulder" of Obama and his targeted-killing program because those policies involved "the very core powers of the president as commander-in-chief." A federal judge agreed, ruling that "there are circumstances in which the Executive's unilateral decision to kill a US citizen overseas" is "judicially unreviewable." Obama faced no peril regardless of killing at least one innocent American in a drone attack in Yemen (a sixteen-year-old boy born in Denver). Drone strikes increased tenfold under Obama, and he personally chose who would be killed at weekly "Terror Tuesday" meetings which featured PowerPoint parades of potential targets. The CIA often did not know whom it was killing but counted all adult males "in a strike zone as combatants . . . unless there is explicit intelligence posthumously proving them innocent," the New York Times noted. Daniel Hale, a former Air Force intelligence analyst, revealed that nearly 90 percent of people killed in Obama's drone strikes were not the intended targets. But because he was president, Obama has no liability to any of the victims or their survivors.
Sovereign immunity creates a two-tier society: those above the law and those below it; those whom the law fails to bind and those whom the law fails to protect. Sovereign immunity presumes that the more evils government officials are permitted to commit, the more blessings they can confer—give or take ten thousand body bags. The doctrine is a parody of "government under the law."
But the friends of Leviathan in the nation's courts, media, and universities assured that this perversion became standard operating procedure. As a result, America's legal system is akin to those of Third World banana republics. "Many public officials in Africa seek re-election because holding office gives them access to the state's coffers, as well as immunity from prosecution," according to 2009 Council on Foreign Relations report.
Alvin Bragg, the prosecutor who filed charges against Trump, is being widely criticized for using a novel legal theory to underlie his case. It is unclear whether Trump would have faced any legal liability under the statutes and precedents previously governing such charges. As a result, some legal experts expect the case to be speedily dismissed.
Regardless of the fate of the Manhattan case, Americans need to end de facto immunity for commanders in chief. Thomas Jefferson warned in 1798, "In questions of power then, let no more be heard of confidence in man, but bind him down from mischief by the chains of the Constitution." One of the best ways to make the Constitution binding is to cease blocking lawsuits against presidents for trampling Americans' rights or inflicting carnage around the globe. But don't expect either Republicans or Democrats to embrace that fix any time soon.
Originally published at Mises.org. James Bovard is the author of ten books, including 2012's Public Policy Hooligan, and 2006's Attention Deficit Democracy. He has written for the New York Times, Wall Street Journal, Playboy, Washington Post, and many other publications.