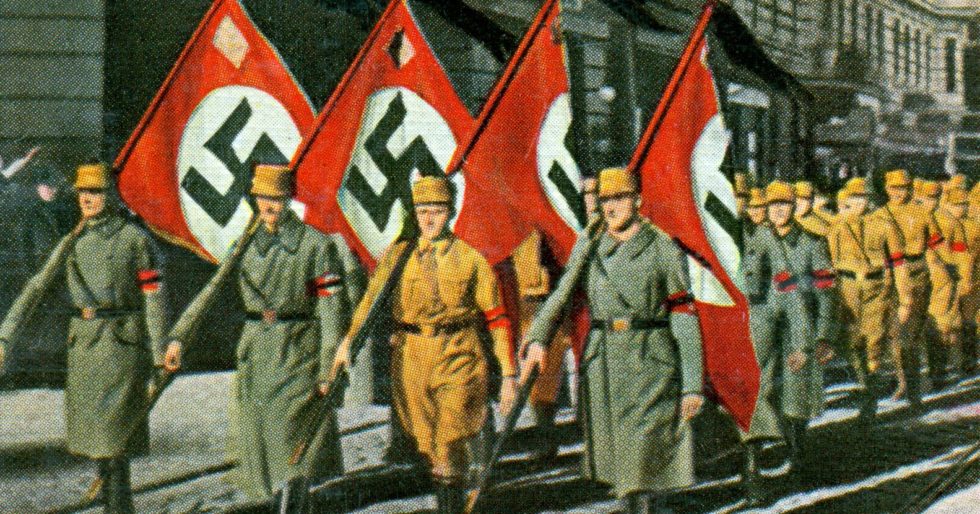 K. Lloyd Billingsley – September 4, 2018
During World War II, Polish-born Jakiv Palij served as a guard at the Trawniki concentration camp, one of many the German National Socialist regime established and the site of a mass slaughter of inmates in 1943. In 1949, Palij lied about his service with the Nazis and claimed he had been working on his father's farm. By doing so he gained entry to the United States, and in 1957 he became a naturalized citizen. His concentration camp service did not come to light until 2003 when Palij was stripped of citizenship. He fought deportation efforts until this August when Germany agreed to take him and the Trump administration gave him the boot. If that long-delayed eviction comes as some relief, it is hardly the whole story on Nazis in the United States.
As we noted in 2014, dozens of ex-Nazis, including death-camp guards and former SS troops, were drawing Social Security payments to the tune of more than $1.5 million. The United States government allowed these suspected war criminals to keep collecting Social Security if they left the country voluntarily, but departure wasn't always voluntary. Jakob Denzinger, a guard at Auschwitz, built a successful plastics business in Ohio. In 1989, when the U.S. government moved to strip his citizenship, Denzinger fled to Germany. In 2014, the former Auschwitz guard was still collecting $1500 a month in Social Security, courtesy of U.S. taxpayers. As the Associated Press discovered, at least 38 of 66 Nazi guards removed from the United States were allowed to keep their Social Security benefits and only 10 were prosecuted for war crimes in Europe.
Those Nazi war criminals who remain in America can't have much time on the clock, but they might be feeling more at home. Politicians preach socialism and seek to confiscate firearms. Those are the conditions that prevailed in National Socialist Germany, where disarming the people was a prelude to mass repression and the kind of facilities where Jakov Palij and Jakob Denzinger worked. For details see Stephen P. Halbrook's, Gun Control in the Third Reich: Disarming Jews and "Enemies of the State," and Gun Control in Nazi-Occupied France: Tyranny and Resistance.
This article was originally published at the Independent Institute. K. Lloyd Billingsley is the author of the books, Bill of Writes: Dispatches from the Political Correctness Battlefield; Hollywood Party: How Communism Seduced the American Film Industry in the 1930s and 1940s; Exceptional Depravity: Dan Who Likes Dark and Double Murder in Davis, California; and From Mainline to Sideline: The Social Witness of the National Council of Churches. His articles have appeared in the Wall Street Journal, Washington Post, Reason, National Review, San Francisco Chronicle, Los Angeles Daily News, San Diego Union-Tribune, Orange County Register, Detroit News and many other publications. He has also written for film, television and the stage.