Brad Polumbo – December 7, 2021
If politicians didn't have double standards, they wouldn't have any standards at all. At least, that's the seemingly inescapable conclusion offered by President Biden's latest flaunting of mask rules.
The president spent his holiday in Nantucket, Massachusetts. While there, he reportedly visited a local shop and was caught on camera maskless inside the store, despite a clear sign mandating masks inside and a local ordinance requiring mask-wearing indoors.
"The president was seen inside Murray's Toggery Shop on the island of Nantucket Saturday with his mask around his neck and not covering his mouth despite a visible sign outside the door instructing patrons to wear a mask," Fox News reports. "According to the White House press pool, Biden walked out of the shop at 4:45 p.m. with his mask down and drinking what appeared to be a milkshake." (The store's sign doesn't say "unless you're drinking." It says to wear a mask.)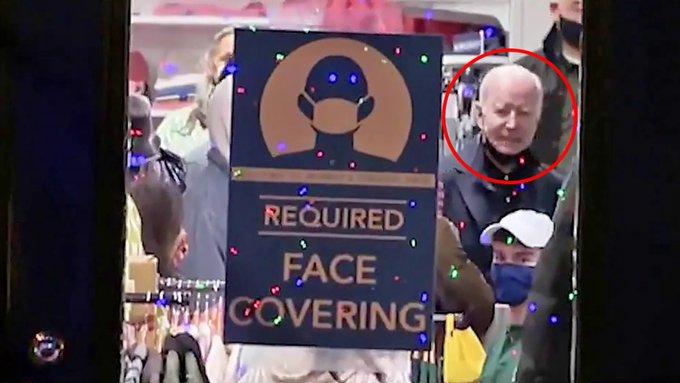 In the still frame shown above, you can clearly see the president maskless while others inside are wearing masks—including a young child almost certainly at far less risk from COVID-19 than Biden.
This isn't Biden's first time flouting COVID-19 mask requirements. In October, the president and his wife violated Washington, DC's mask mandate when visiting the posh Georgetown restaurant Fiola Mare. Video shows them walking through the restaurant maskless while staff clad in black masks surround them.
The Bidens are, unfortunately, no outliers. Literally dozens of politicians have been caught violating their own pandemic policies and mask mandates. So, too, media figures that have advocated mask mandates don't always practice what they preach, as recently exposed by FEE's Jack Elbaum.
It's not that Biden or these other people are necessarily doing anything inherently wrong with their mask-free escapades. They may very well not be. That's a matter of their individual comfort level and personal risk assessment given a variety of pandemic factors. But the hypocrisy of pushing mandates onto others while violating them in private is horrible and unacceptable.
Yet it's all-but-inevitable under systems of concentrated big government power. As the saying goes, absolute power corrupts absolutely. The only way to prevent hypocritical politicians from breaking the rules they enforce on our personal lives is to limit their ability to enforce those rules in the first place.
Originally published at Fee.org.
Image Credit: YouTube Screenshot, the Washington Post